When it comes to humor, the Advertising Department of 5 Star is unbeatable and exclusively creative. Now, they have stepped up their game of advertising joining hands with the most reliable voice assistant, Google's Assistant. 
As we all know, Voice Assistants are always at our beck and call. Just as its name, Google Assistant does many things for us like performing searches, setting appointments, calling or texting contacts, reading out the weather, and many more things. But the all-new 'Do Nothing" mode stays true to its name and does exactly nothing and gives absolutely quirky responses to your command. 
The "Do Nothing" mode is a part of the special campaign launched in collaboration with Cadbury's popular chocolate,5Star. So, it is available only in the places where the chocolates are sold, like India and some other global markets. The users in the US or UK might not find the mode.
How to activate the Do Nothing mode?
Activating the Do Nothing mode is very simple, just say "Eat a 5 Star" and the 'Do Nothing' mode will be activated right away.
Check out the official promo video of the feature right below.
Do Nothing and Chill with Your Google Assistant
So, after it activates, Google Assistant turns magically into a dumb sarcasm-queen. Whatever you ask her to do after that, she will give some eccentric replies referring to do nothing and chill at home. This is actually the theme of the 5 Star brand as Cadbury advertises the product as something that will make you forget about everything else in the world, we are really well acquainted with Suresh and Ramesh Jokes, aren't we?
For example, if you ask Google assistant with this mode on about football scores, it will sarcastically reply," 22 players chasing the same ball, nothing new about it."
It is pretty entertaining to play with such features and get a good laugh over such funny responses.
Although some of the responses are pretty clever and innovative, the replies can get generic or repetitive if you keep asking similar types of questions. Also, for some questions, the assistant just cannot come up with a relevant response other than a boring "hmm".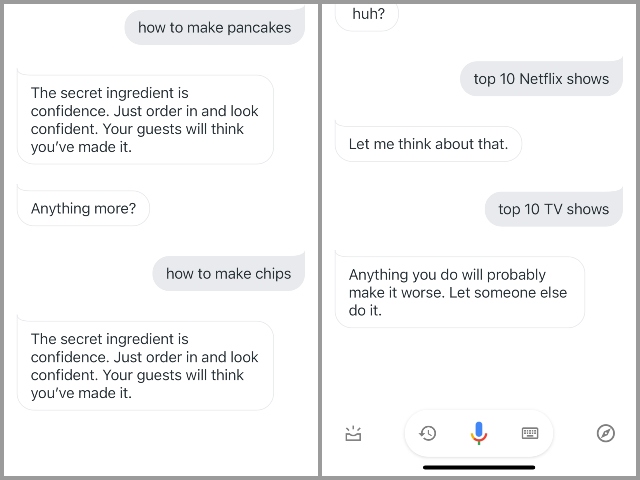 However, playing with the "Do Nothing" mode on Google Assistant by using common commands is not at all boring. It's good to take a break from busy schedules and smile, cause smiling is also important.
All Images Courtesy: beebom.com