Introduction
Hello there, so you are looking for the best video editing software that fits your needs. Well, there are plenty of video editing tools in the market for every OS and every use case scenario. So it's really tough to choose the best one.
But don't worry, in this article we are gonna solve this problem, by suggesting the best options for every use case scenario, for every OS, both free and paid options. So let me first tell you how I would like to categorize the softwares.
Firstly we are gonna talk about Free and Paid video editing tools in the market. Then we are gonna categorize them based on the operating system they support. Ex, Windows, Mac, Android, iOS, and iPad OS.
Now once, that's done we are going to focus on the different scenarios, like basic tools for beginners, or editors for advanced video editing, for animation (both character and whiteboard).
Every software we talk about in this article will be judged on the following parameters.
Ease of Use
Optimization/Speed
Pricing
Functionality
I would be rating the software on a scale of 5 for all these parameters, which will help you decide better.
Lastly, there's a BONUS at the end, for all you guys out there, especially, who don't have a powerful enough PC or laptop.
Let's Start!
Here's a list of the most common free and paid video editing softwares.
| | |
| --- | --- |
| Free | Paid |
| Da Vinci Resolve | Final Cut Pro X |
| iMovie | Adobe Premiere Pro |
| Cyberlink Powerdirector (lite version) | Adobe After Effects |
| Kinemaster (with watermark) | Sony Vegas Pro 18 |
| Adobe Rush ( free starter plan) | Adobe Premiere Elements |
| Filmora (watermark) | Camtasia Studio |
| Hitfilm express 14 | Luma Fusion |
| Movavi ( free version) | Adobe Premiere Rush ( paid version) |
Free v/s Paid Video Editing Softwares
OS wise Distribution
| | | | | |
| --- | --- | --- | --- | --- |
| Softwares | Windows | Mac OS | Android | iOS/ iPad OS |
| Da Vinci Resolve | | | | |
| Adobe Rush | | | | |
| Hitfilm Express 14 | | | | |
| Adobe Premiere Pro | | | | |
| Adobe After Effects | | | | |
| Sony Vegas Pro 18 | | | | |
| Adobe Premiere Elements | | | | |
| Camtasia Studio | | | | |
| Filmora | | | | |
| Movavi | | | | |
| Cyberlink Powerdirector | | | | |
| Final Cut Pro X | | | | |
| Luma Fusion | | | | |
| Kinemaster | | | | |
| iMovie | | | | |
OS Wise Distribution
As you can see from the chart above, there are multiple choices for every platform. But let me tell you, my personal favorite video editors, that I have used for each platform.
Windows
Now starting with Windows, I feel hands down it's going to be Adobe Premiere Pro, followed by Adobe After Effects. Let me Explain.
If you are starting out, then Adobe Premiere Pro is a good place to start. I wouldn't say that it's very beginner-friendly, but the learning curve is not so steep. So anybody who is a beginner or is even at an intermediate level, Adobe Premiere Pro, is a great choice.
Now comes Adobe After Effects. It is kind of like photoshop for videos. You can do a lot of advanced stuff with After Effects, which cannot be done on Premiere Pro.
Although, I would say, After Effects does have a steep learning curve, and is an advanced level software. But with that said, you can do wonders if you master it.
MacOS
Now talking about Mac OS. Well personally I use a MacBook Air- 2017 for all my work, and hands down the best video editing software here, is Final Cut Pro X. Let me tell you why.
See, from my personal experience, the Macbook Air is a really underpowered machine on paper, so most people don't expect to edit videos on it. But Final Cut Pro X runs like a charm even on this machine.
The software is so optimised that, the rendering speeds are really fast, and also the whole editing workflow, is super smooth even on a low-powered Mac. Final Cut Pro X is developed by Apple itself, so you can understand the reason behind it's speed and optimisation.
Just for reference, if you render a 4min 1080p H.264 clip on Final Cut Pro X on the MacBook Air 2017, it will take around 4mins, 15 secs, to export. But, if you take the same timeline, and export it in Premiere, it will take even more than 10 minutes to export.
If you stress it with 4k then, the Macbook Air does lag bit. Here's my video on that.
Now additionally on Mac OS, you can also run Adobe After Effects, and the points I discussed earlier, remain the same for Mac OS as well.
A great alternative to After Effects on Mac OS is Apple Motion, which has the name implies is made by Apple, so is a bit more optimised than After Effects. But Personally for advanced tasks, I prefer After Effects more than Apple Motion.
Note:
Well, all the softwares I talked about just now, are paid ones. So if you ask me the best free option, for both the Operating Systems, it has to be Da Vinci Resolve. Especially with regards to color grading, Da Vinci Resolve is the industry standard. Try it out, and you will know.
Android
Now coming to Android. Let's be honest here. On android, what you can do interns of video editing, is quite limited, but that said, basic, to intermediate level editing is possible. My personal favourite app for Android is KineMaster Pro, followed by Cyberlink Power Director.
Both these editors can help you in basic stuff like trimming down clips, merging them, speeding clips up, adding text animations, transitions, editing the audio, etc. Also, they have some color presets, for applying basic filters to your videos. The limitation is that, if you don't get the pro versions, for both of these, you will get their watermarks in the exported videos.
Another point you need to note is that the export video quality, especially in Kinemaster is determined by the power of your phone. If you are using a high-end android phone, then you can export in higher bitrates, and resolutions, but if you are using a low-end one, then you will be stuck to 720p or even lower resolutions.
iOS and iPadOS
Now coming to iOS or iPad OS, Here I have used 3 video editors, namely Luma Fusion, Adobe Rush, and iMovie.
Well LumaFusion, is a paid software, but I would say it's worth it. It's the closest you can get to desktop grade editing on a mobile or tablet. It's somewhat like Final Cut Pro, for your iPad or iPhone.
Here's a video for you to check on what's the real potential of Luma Fusion.
The next is Adobe Rush. Well Adobe Rush is again a beginner level software, with the basics done right, like trimming, merging, cropping, editing audio, adding transitions, and stuff. But I was using the free starter pack of the Adobe Rush, so can't comment on what you get with the full version.
The Rush, is Adobe's attempt to enter the mobile editing market, and I feel it stands somewhat in-between Luma Fusion, and iMovie.
Talking about iMovie, it's the most basic video editor for any operating system from Apple, and if you just need to merge clips, and do some basic stuff, it's great. But anything beyond that, iMovie lacks the tools to meet your requirements.
Use Cases
So now let's dive into the best video editing softwares, based on the different use case scenarios.
1) Beginner's level
So if you are just starting out with video editing, I would say you should consider using a free option, and also choose a software that's easy to learn.
For Windows, I would recommend you the Hitfilm Express 14. The reason is, it's completely free software, so you can download it easily, and also the learning curve is not so steep with this software. If you want to go a step forward, then your next option is Da Vinci Resolve, which is again a free option but might take you some time, getting used to it.
For Mac OS I would recommend iMovie, for basic trimming and merging needs, and the Da Vinci Resolve, if you want something more advanced. Da Vinci Resolve, is according to me the best free option in both the operating Systems.
For Android, I would recommend the KineMaster app, though you will get the watermark, but it's a good place to get started. If KineMaster doesn't suite you, you might as well consider the Cyberlink Powerdirector.
For iOS the you can again use the kinemaster, or even the Adobe Rush, or iMovie for very basic stuff.
2) Intermediate Level
Now for intermediate level users, I would be including the paid options, as well, because the tools are very limited in the free version of any software.
For Windows I would say, master Da Vinci Resolve, and then if you wish, you can upgrade to the Adobe Premiere Pro. Adobe Premiere Pro, will be a no brainer for intermediate users, as it has some really great tools, and if you are passionate you can quite easily get yourself set on the Premiere Pro.
I will link a tutorial series, for you to refer.
For Mac OS users, it's again the samething, master the Da Vinci Resolve Software, and then I recommend you to upgrade to the Final Cut Pro X , for editing your videos. Trust me the experience will be really amazing.
Here's a tutorial to Final Cut Pro X, for you to start learning.
For Android, I would say if you are comfortable with Kinemaster, then get the pro version to remove the watermark.
For iOS , hands down, buy the LumaFusion , you won't regret. The feature it has , will let you get complex projects done as well.
Here's a link to LumaFusion tutorial, for you to have a look.
3) Advanced Level
So if you are a advanced level video editor, firstly you don't need me to tell you what video editing software to use. But still I feel for Advance Video Editing Adobe After Effects is the software you need to master.
Also for dedicated colour grading Da Vinci Resolve can be used, as the colour grading panel on that is hand's down the best in class.
4) Animation
Now this is a category not everyone is interested in, but still let's talk about it. So here, I am talking about two types of animation.
Whiteboard Animation : which is quite common these days
Character Animation
Whiteboard Animation
Now for whiteboard Animation, I would recommend you a few softwares, that you can try, and also I will link a proper tutorial below.
1.Videoscribe
2.Explainido
3.Adobe Animate CC
4.Doodly
5.Powtoon
Now it's not possible for me to talk about each one of these softwares in details, so I would suggest you to go on Google, and find the best one suitable for you.
Here's a whiteboard animation tutorial.
Character Animation
Now coming to Character Animation.
So here's I would recommend Adobe Character Animator, which I personally use for my animation projects. Do note that it requires some serious hardware to run smoothly. If you combine, Adobe Animate, Adobe Character Animator, and Adobe After Effects, then you can create some serious animations.
Here's a link to Adobe CH tutorial, have a look.
Now recently I went across one iOS app, made by Google, called Toontastic.
Essentially it is a fun app, for story making primarily targeted towards kids. But if we can use it correctly, then we can get some basic animations done.
Here's a demo, have a look.
So now we are done with all the best softwares, that I recommend in various use case scenarios.
One thing I forgot to mention, is that Camtasia Studio is a great choice if you need something which can record your screen, and also edit that same video. It's kind of a 2 in one app, i.e. screen recorder/video editor.
Bonus
Now here's a Bonus part for everyone. Well if you guys don't happen to have a decently powered laptop, then probably editing videos will be a pain, no matter what software you use.
So here's a great solution for that.
Online Video Editing Softwares
Yes, you heard me right, now you can get access to professional video editing softwares, just with the help of a good internet connection.
Here are the links, check them out.
Reviews
So before summing up let me give you a detailed review of each of the softwares.
Da Vinci Resolve
DaVinci Resolve is well suited for applications where you would like to tweak and finalize the visual style of your project. Color correction is certainly its strong suit, and seems to use up less processing power than its competition. It is especially useful for anyone new to the industry, like an independent creator who doesn't perhaps have the beefed-up computers of larger productions. It may be less well suited for applications where heavy audio correction needs to be done. The best part is that, it's free and available on both Windows, and Mac.
Adobe Rush
Adobe Premiere Rush is a relative newcomer to the video editing world. Released as Adobe Premiere Rush in 2018 it was previously known as an unreleased program called Project Rush. Adobe has aimed this new cross-platform editing software at YouTubers aiming to up their game, or for those that want to generate content quickly without the extra frills that professional video editing softwares offer.
Premiere Rush gives a tutorial walkthrough when the app is first opened, perfect for the uninitiated. But Rush is quite simple to get to grips with even without that. After a simple media import process users are met with one monitoring panel for viewing the edited media, and a timeline panel beneath in which to edit. The center panels are flanked with import and basic cutting/splicing tools on the left, and editing tools on the right. For users on the go, it can be used on Mac, Windows, iOS, and Android devices that meet the minimum system requirements.
Hitfilm Express 14
HitFilm Express is much more, than just trimming away unwanted footage, tweaking colour levels, and exporting video to a new format. This is a full edit suite that can be used to work with filters and special effects, as well as a selection of 2D and 3D composition tools. While the emphasis of the program web site and tutorials is on creating Hollywood-style movies, it's also a great software for vloggers – and YouTube uploading is built in.
Adobe Premiere Pro
Adobe Premiere Pro is an industry standard video-editing software available for a monthly subscription fee. The latest version, 14.3, was released in June 2020, and brings with it a few helpful tweaks on top of the already well-established back catalogue of features.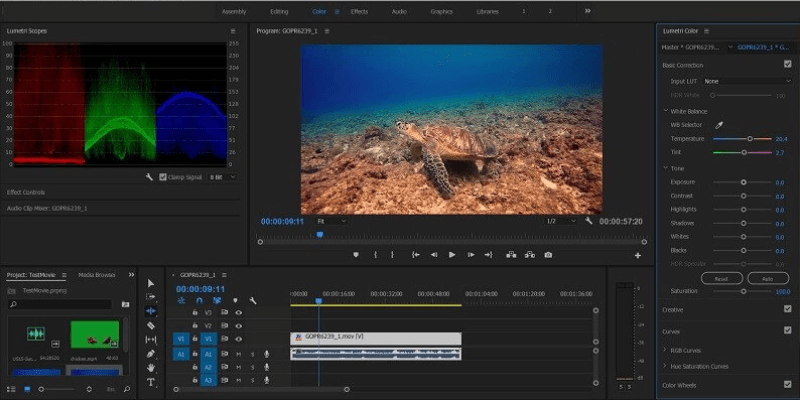 It now includes features such as access to royalty-free music via the Essential Sound panel from within the software, and Lumetri Color, a powerful color grading, and cinematic color styling tool with multiple visual displays for accurate editing.
But I feel, the pricing of the Adobe Premiere Pro, is not so affordable, especially for beginners.
Adobe After Effects
After Effects is a complex application. Its toolset is undoubtedly brilliant and ultra-deep, offering motion professionals the tools they need to create striking broadcast and film-ready animations and titles.
The new features brought to After Effects CC 2020 are amazing. Features like data-driven updates will save hours of time while opening up new creative pathways. The Create Nulls from Paths feature will also dramatically streamline your workflow.
Of course, there's a huge learning curve. This is an application that requires extensive training – and the new start screen helps beginners embark on their adventure into motion design with less stress.
But once you do get used to it, it's blazingly fast and has an intuitive timeline from which you can control pretty much every aspect of your project. It's capable of almost anything you want.
Sony Vegas Pro 18
Sony Vegas Pro has an extremely large set of tools that professional editors can use for their projects. It's user friendly UI makes the workflow go smooth without any complications. It even has built-in tutorials for most tools that users can experiment and try out new features.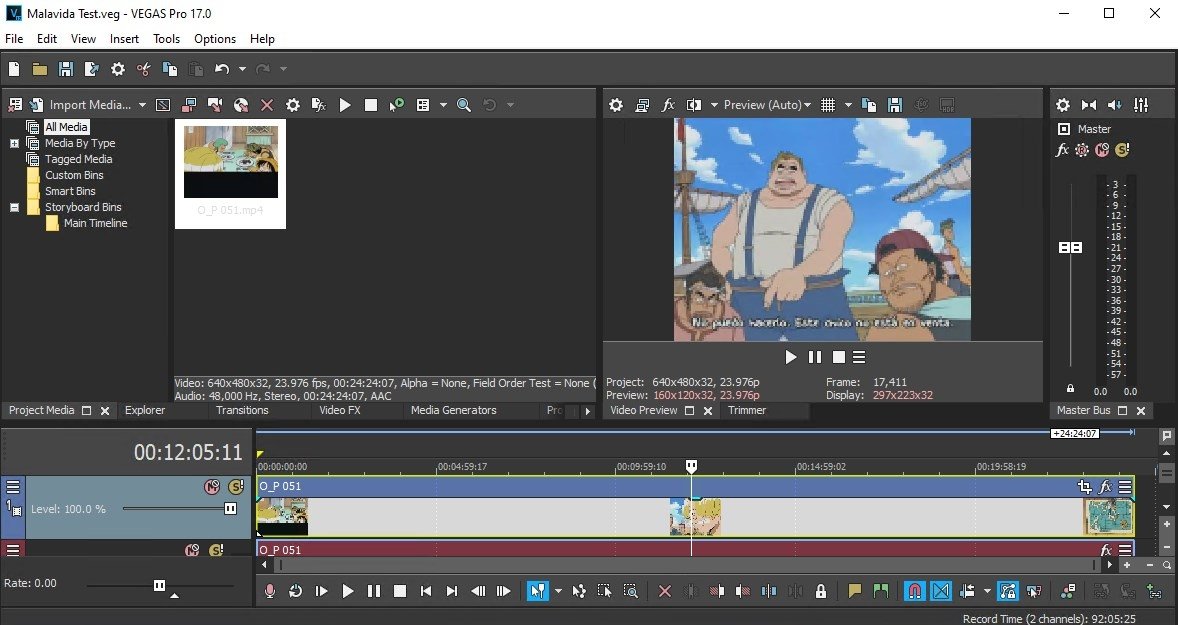 On the flip side , it's an extremely expensive piece of software and takes a lot of time to master. You also cannot make projects with FPS lesser than 12.
Adobe Premiere Elements
Adobe Premiere Elements is a trimmed down version, of the adobe premiere pro. It works on Macs and PCs, is easy to use, and provides compelling advanced special effects and features in a guided format that anyone can follow.
Camtasia Studio
Camtasia is fantastic for professional video editing. This has lots of features that allow you to create a video that is polished and professional. It's easy to learn and user-friendly and also lets you record your screen, and that's an added advantage over the other softwares.
Filmora
Filmora, can be a great choice, as it's user-friendly, and has good amount of tools. But once you get past a certain level, I feel that it lacks some advanced tools, to make a video look perfect. But for beginners, it's a great choice.
Movavi
Overall, Movavi is a nice-looking application, but it has too many inconsistencies which make it hard to recommend if you are serious about getting into video editing. At least it has a seven-day trial for you to check it out and decide yourself.
Cyberlink PowerDirector
This is a very flexible and robust video creator. Beginners can start the creation of videos and creation of slideshows. The structure of the software is very easy to use and it gives more output formats to the users. The software is cheap and it is a very creative software.
Final Cut Pro X
FCP X is a pro-grade software, and if you have a mac, then it's a must have, as you get a fast, and easy to learn interface, with advanced tools, and also, the optimization and speed of the software, is really what makes it my favorite of all the softwares, I have used till date.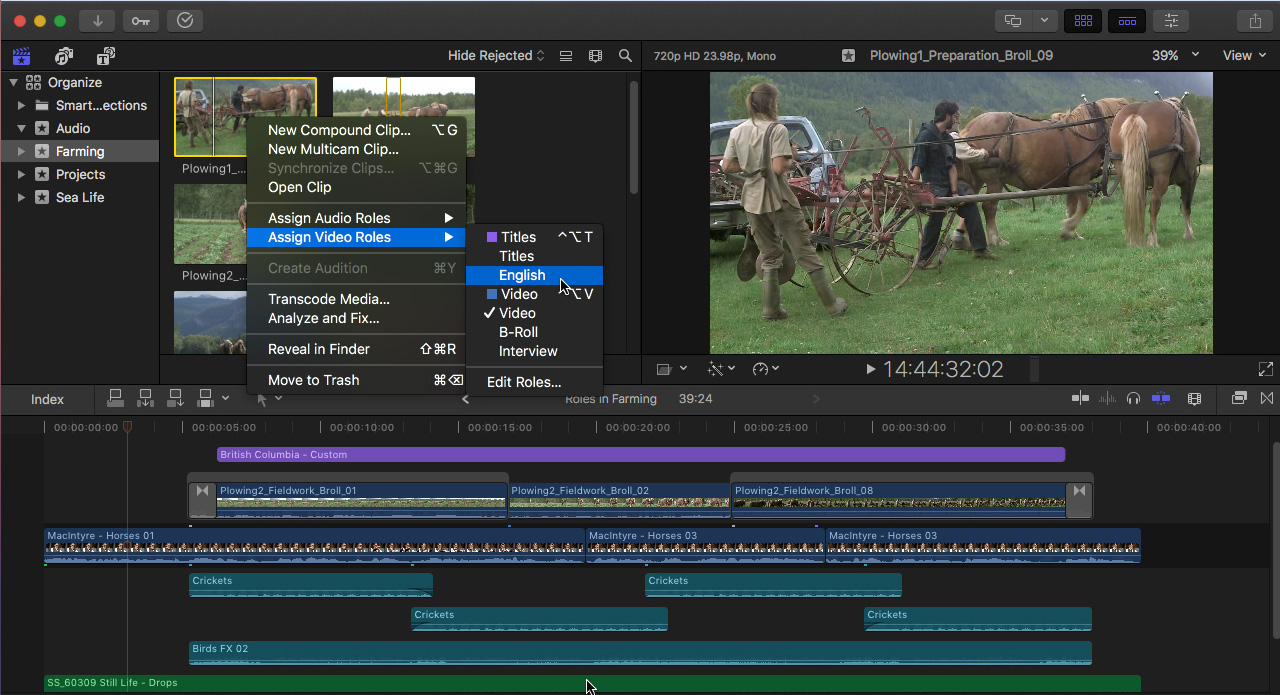 Luma Fusion
Luma Fusion, is hand's down the best video-editing software,for iOS and iPad OS, especially if you are someone who edits videos, on the iPad. It's fast, has basic to moderate set of tools, and can handle workloads, pretty well, considering you are editing on a mobile device. For the price, I feel it's the best, with nothing, even coming close to it.
Kinemaster
KineMaster is a surprisingly powerful video editing app for your mobile device, which is well designed so all tools never feel out of reach. You can find yourself creating complex projects with ease. I personally started learning editing, with this piece of software, so if you are a android user, it's the best one you can download, based on my experience.
iMovie
The great thing about iMovie is that it's very user friendly. We often will have someone from another department who wants to make a video quickly, but has no experience with video editing software.
Summary
With all that done let's summarise based on the key factors I told earlier.
| | | | | |
| --- | --- | --- | --- | --- |
| Softwares | Ease of Use | Speed | Pricing | Functionality |
| Da VinciResolve | 4.2/5.0 | 4.5/5.0 | 5.0/5.0 | 4.3/5.0 |
| Adobe Rush | 4.8/5.0 | 4.0/5.0 | 3.5/5/0 | 3.3/5.0 |
| Hitfilm Express 14 | 4.0/5.0 | 4.1/5.0 | 5.0/5.0 | 3.9/5.0 |
| Adobe Premiere Pro | 4.0/5.0 | 3.3/5.0 | 2.0/5.0 | 4.8/5.0 |
| Adobe After Effects | 3.8/5.0 | 4.0/5.0 | 2.5/5.0 | 5.0/5.0 |
| Sony Vegas Pro 18 | 3.5/5.0 | 3.3/5.0 | 3.5/5.0 | 3.9/5.0 |
| Adobe Premiere Elements | 4.0/5.0 | 3.3/5.0 | 2.0/5.0 | 3.3/5.0 |
| Camtasia Studio | 4.0/5.0 | 4.1/5.0 | 3.5/5.0 | 4.3/5.0 |
| Filmora | 4.8/5.0 | 4.1/5.0 | 3.5/5.0 | 3.5/5.0 |
| Movavi | 4.2/5.0 | 4.0/5.0 | 3.3/5.0 | 4.3/5.0 |
| Cyberlink Powerdirector | 4.3/5.0 | 4.1/5.0 | 3.9/5.0 | 3.5/5.0 |
| Final Cut Pro X | 4.5/5.0 | 4.8/5.0 | 4.2/5.0 | 4.8/5.0 |
| Luma Fusion | 4.3/5.0 | 4.5/5.0 | 4.6/5.0 | 4.3/5.0 |
| Kinemaster | 4.8/5.0 | 4.5/5.0 | 3.9/5.0 | 4.3/5.0 |
| iMovie | 5.0/5.0 | 5.0/5.0 | 5.0/5/0 | 3.3/5.0 |
Video editing software summary
Well, we are mostly done, with the best video editing softwares in the market, that you can use depending on your needs.
How good are Online Video Editors?
Now before concluding, we would like to share our experience with a great Online Video Editor Veed.io
VEED – Online Video Editor
Tired of looking for video editor that makes your video social media ready! Veed is your one stop destination for everything trendy. Nowadays, editing online has become one of the most worldwide options available. Gone are the days when people take hours to finish downloading an online software and install it in your desktop when you can perfect edits for your feeds by just working online. Veed portal will help you do it with ease.
Overview:
Comes with dynamic features of sound wave effect, transitions and many such editing tools, Veed comes up with features many downloaded tools cannot provide you. With easy to share facility, this gives you an upper hand when you need to share without downloading. It is one server that will leave a good impression of yours to the whole world. Here are the steps to use this application
Steps to use:
Click on new project in the veed application
Upload the video that you want to change
To do this, we can either click on upload video/audio option or we can upload it from the drop down arrow present on its right side
If you select the drop-down arrow, you will get 4 options to choose from: my device, drop down, camera, or link
Choose the video you want to select and you see it displayed on the editing portal
A playback button is there to play your raw video
We can trim the clip by hovering over from either side
From the top right side, we can change the size of the canvas from the drop-down menu
We can drag and choose accordingly
We can add new text from the text tab and work it out accordingly
There is a subtitle tool to change your audio into subtitles in your preferred language
We can position them and style them accordingly
Elements tab adds various features like a progress bar
We can upload an audio button
Click on the button in the top right to download
Pros
Video captions features available
Auto generated subtitles on your preferred language
Easy to use
Simple yet powerful tools for edit
Can be shared across without the worry of downloading
Canvas can be changed according to the social media platform
Features like trimming is available
Online editor
No need to download
Cons
In free version video upload is limited to 50 MB only.
Conclusion
So to conclude, I would say, that there are a plethora of Video Editing Softwares in the market,
and the good ones are obviously paid ones, but if you are smart enough, you get access to those
tools. You know what I mean!
I hope this guide can help you decide which video editing software is best for you. If you have any
suggestions, do let me know in the comments, and subscribe to our newsletter, for more such exciting content.
Have a good day!
Read More: Best No-Compromise Gaming and Productivity PC Build Under Rs 60,000 in 2020
Follow us on Google News!
FAQs
What is the best video editing software for Windows?
Adobe Premiere Pro
What is the best video editing software for Mac?
Final Cut Pro X
What is the best video editing software for Android?
Kinemaster Pro
What is the best video editing software for iOS?
Luma Fusion
Which is the fastest video editor?
Final Cut Pro X
What is the best video editing software for colour grading?
Da Vinci Resolve
What is the best video editing software for beginners?
Hitfilm Express
What is the best free video editing software ?
Da Vinci Resolve, Hitfilm Express
What is the best video editing software for advanced editing?
Adobe After Effects.
FCP X vs Adobe Premiere Pro
FCP X is faster and more efficient than Premiere Pro, but the color grading, and effects panel on the Premiere Pro is more advanced.