One of Apple's Biggest Announcements in WWDC 2020: The iOS 14!
If you are a iPhone user, you should most definitely be excited about this update. This is the Operating System, that will power Apple's upcoming iPhones, and also most of the existing ones.
iOS 14 packs a wide variety of new features, such as Picture-in-Picture, new widgets, App Library, improved Siri, Maps, Messages, CarPlay, App Store, and much more!
So, Lets' get started.
Changes in iOS 14
1) Design
Apple has redesigned the iOS 14, and introduced 'App Library', which automatically organises your Apps in a proper manner.
2) Widgets
iOS users can now add widgets directly on the Home Screens of their iPhones, and customise it however they want. They can also use the new 'Smart Stack' Widget, in which you can swipe through different widgets. Smart Stack can also show you different widgets on its own, based on your usage patterns, by using on-board Machine Learning.
3) Picture-in-Picture
iOS 14 users can now watch a video or be on a FaceTime Call, while working, or texting someone, using the new Picture-in-picture feature. This is a long awaited feature for iPhones. The company is finally catching up with times.
4) Siri and Translation
Apple is improving Siri will each new iOS updates. Similarly this year also, Siri would be able to understand more complex commands, and would be able to do much more. Siri also does not take up the whole screen anymore.
A new Translate app in iOS 14 will let you translate entire conversations right on the screen of your iPhone. Turning your phone into landscape mode creates a split screen with the conversation displayed in different languages on either side of the screen.
Translate is smart enough to automatically detect the language, Apple says. And all that translating and transcribing happens on the iPhone without any data being uploaded to the cloud. That means you won't need an internet connection to converse with someone in another language, and the translation will be faster than ever before.
At launch, Translate will support 11 languages: English, Mandarin Chinese, French, German, Spanish, Italian, Japanese, Korean, Arabic, Portuguese and Russian. Translation will also be possible within Safari for the first time ever.
5) Messages
Messages finally get an update in the iOS 14. It now has 'Mentions' and 'Inline replies'. And anyone who has ever been included in a massive iMessage group will appreciate the new option to turn off all notifications in a particular group conversation unless a member of the group pings you specifically.
6) Maps
Apple has several changes planned for Maps, including new Guides. The idea behind Guides is that Apple will give you curated recommendations for places to eat and locations to explore in select cities. However, the more exciting addition to Maps involves helping you get around in ways that minimize your carbon footprint.
In iOS 14, you'll be able to get cycling-specific directions that will alert you to bike lanes and paths. Your directions will let you know if you've traveling down quiet or busy roads, and you'll also get a glance at the elevation on your route to warn you if there are some steep hills ahead.
7) CarPlay
Apple introduces digital Car Keys in iOS 14. Car keys use NFC, and you simply tap to unlock your vehicle. In some models, you'll even be able to place your iPhone on the vehicle's interior charging pad and then just press the ignition button to start the car.
Apple says its car keys feature is more secure than physical keys. And you can share keys with other iPhone users securely, thanks to the Secure Enclave embedded in Apple's handsets. The first vehicle to support car keys in Wallet, the 2021 BMW 5 Series, will be available in July, though more will eventually follow.
Apple says that it is working with carmakers so that you'll be able to keep your phone in your pocket or bag and still use your phone as a car key. New wallpaper options are also coming for CarPlay. And once again, Apple is adding useful tools for drivers of electric vehicles, like the ability to track your car's charge level, and predict how long it will be able to run while taking factors like elevation into account. This functionality will exist within the normal Maps app, though it figures to be especially useful in tandem with CarPlay inside your vehicle.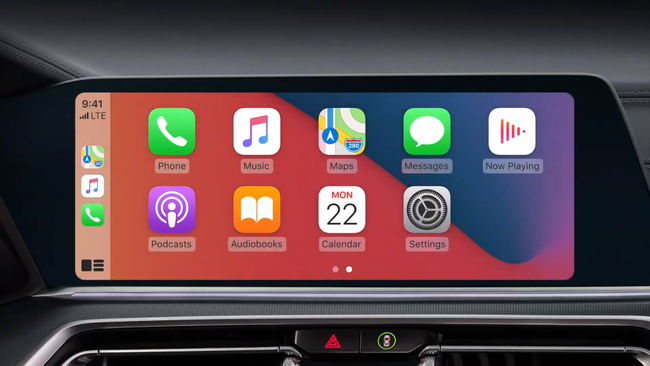 8) App Clips
New, bite-sized snippets of apps, called App Clips, will allow you to use an app without downloading the entire thing. This can be useful for those short, one-time use apps that are necessary in the moment, but not ones you necessarily want to keep on your device forever. You'll be able to use Sign In With Apple for apps downloaded in Clip form, so you won't have to make a whole new account just for those brief use instances.
All these excellent iOS 14 features are expected to arrive later this year.
Read more of our WWDC 2020 Coverage here