Like many other brands, Xiaomi has also been engaged in building a super-fast charging technology. The firm has already portrayed off the 100W "Super Charge Turbo" technology that may juice up a 4,000mAh battery in about 17 minutes. But, it looks like Xiaomi has made additional developments as its upcoming 120W charger has been licensed by China's 3C certification.
Xiaomi's 120Watt Charger carries the model number MDY-12-ED and has been designed by Huntkey Electric. The firm's rival Vivo has already portrayed off its in-house 120W Super FlashCharge implementation the year before. It's able to juice up a 4,000 mAh battery from 0% to 50% in about 5 minutes. This means you may quickly have the ability to fully charge your phone within 15 minutes or less.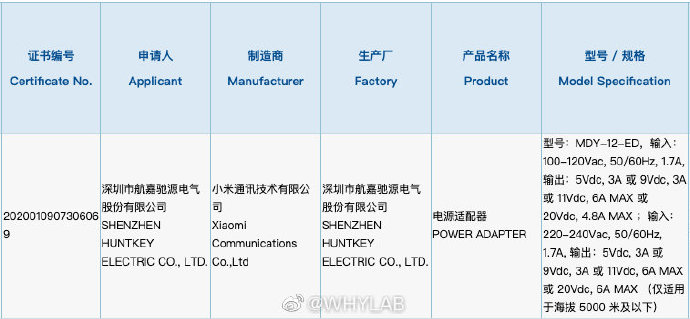 The screenshot above reveals that the charger tops out at 120W however can even function at different charging speeds. This consists of 15W (5V/ 3A), 27W (9V/ 3A), 66W (11V/ 6A), and 96W (20V/ 4.8V), which might be a great benefit for Xiaomi customers.
A brief hands-on video of this 120W charger was recently found Online. It had the identical model number and a max output of 120W (20V/ 6A). It's shocking to see this charger acquire certification only a couple of months after Xiaomi China's President Lu Weibing shared technical difficulties being confronted with the growth of this charging technology.
Which would be the first Xiaomi phone to feature with this super-fast charger? Currently, there are no official data however the Mi Mix 4 or Mi Mix Alpha successor can be a possibility. It is anticipated to launch in Q4 2020, so drop in your email and subscribe to our newsletter to keep yourselves updated.