The future of automotive engineering is electric, it was said. In fact, the way the world would commute would be electric. No longer is the wave slated for the future; it's very much here. It's omnipresent. There you have it; urban mobility is here to stay. It's adding new dimensions all the time.
India is still a long while away from complete electrification but it could be argued that the country's electrification journey has begun in the right earnest. 2020 too will see multiple electric car launches in India and that too across multiple segments. If not for long highway rides, electric cars do make sense for daily commuting at least. Yes, there are challenges with respect to charging infrastructure, availability of electricity and even the source of electricity could be questioned, but the way forward is electric and there is no escaping it.
Here's a quick look at the ones we know should be here in a few months' time.
Nissan Leaf
Nissan has confirmed that it will be launching the Leaf in India this year. Fun fact, the Leaf is the highest-selling highway capable electric vehicle in the world and we expect it to be cost 35 to 40 lakh rupees when it arrives. The fact that it is an import pushes the cost up! The Nissan Leaf gets a 40 kilo watt hour battery which can offer a range of up to 400 km on a single charge. Power output stands at 148 bhp and peak torque of 320 Nm. Charging time of the battery is between 8 and 16 hours, depending on power capacity. The car also gets a quick charging feature which can give 80 per cent battery charge in just 40 minutes.
Audi e-tron
We've already driven it and come away impressed. The Audi e-tron's two motors deliver all-wheel-drive capability and a combined output of 408hp. A 95kWh battery promises a range of 400km, as per the Worldwide Harmonized Light Vehicle Test Procedure (WLTP) cycle. It will be priced at around Rs 1.5 crore.
Tesla Model 3
The Tesla Model 3 is one of the most anticipated electric cars from the American car manufacturer. The mid-size premium sedan shares most of its design and style cues with the flagship sedan from Tesla – the Model S. Before the unveiling, Tesla CEO Elon Musk tweeted about the major markets where new Model 3 will be sold with India in the list
The electric motor houses around 7200 superchargers which sprint the EV from rest to 100km/h in just 6 seconds. Tesla will launch Model 3 in rear and all-wheel-drive versions.
Model 3 is expected to carry a price tag of around 75 lakh in India.
Jaguar I-Pace
Another luxury carmaker getting into the act of launching an electric car in India is Jaguar Land Rover. It has confirmed that the I-Pace will come to India by the end of 2020. The I-Pace has the pedigree of a champion already. Its expected price in India can range Rs.58.0 Lakh. It won an unprecedented treble at the 2019 World Car Awards. It won the world car of the year award along with the world car design award and the green car award as well.
The electric Jaguar crossover has a range of 470km (WLTP- Worldwide Harmonised Light Vehicle Test Procedure) and a 0-100kmph time of under 4.8 seconds
BMW i8 Roadster
The open-top version of the BMW i8 should launch towards the end of this year at a price of Rs 2.8 crore. For that money, you'll get a plug-in hybrid with an all-electric range of 50km; and, of course, top-down sportscar fun. The i8 has a 143hp/250Nm electric motor along with a 231hp/320Nm, 1.5-litre petrol engine.
Ford Aspire EV
The Aspire is going electric, thanks to Mahindra. It will run an 82hp motor with a 25kWh battery, giving it a real-world range of 150km. Mahindra and Ford will sell their own versions, but there will be very few changes between the two models. Interestingly, the electric Aspire will be based on the export model, which features a larger boot.
This combination of the power output from the motor and the battery capacity will give the Aspire EV a real-world range of 150 km and it will have a top speed of 110 km/hr
Prices for the car starts at Rs 9.44 lakh (after deducting Govt. subsidies). So with the lower prices, this car became the cheapest electric car available for commercial buyers.
For private buyers, the prices start at Rs 13.09 lakh (ex-showroom, Delhi) and Rs 12.59 lakh (ex-showroom, India).
Mahindra eKUV100
With the e2o gone, an electric version of the KUV100 will replace it as Mahindra's EV hatchback, come early 2020. With a 40kW motor, 15.9kWh battery and 120km range, the numbers won't blow your mind; but it promises to serve as a practical and robust family EV.
Its price ranges to ₹18-30 lakh.
Porsche Taycan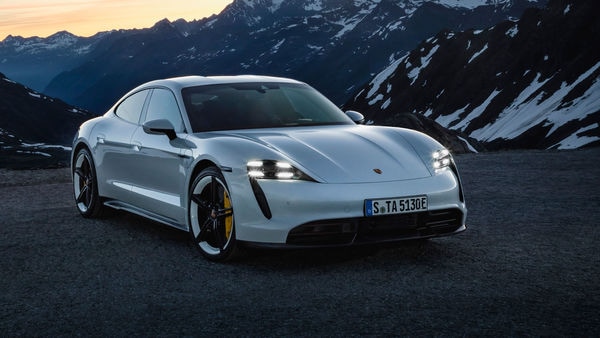 Porsche took the wraps off the Taycan in 2019, which is its first ever fully electric model and a sportscar too. Based on the Porsche Mission E concept, the new Porsche Taycan will sport two permanently excited synchronous electric motors that are capable of churning out max power of 600 bhp and will a range of over 500 km thanks to its high voltage lithium-ion batteries. It can go from 0-100 kmph in under 3.5 seconds and Porsche says that the Taycan is not just sporty, but also practical. While we believe Porsche when it says so, all the performance and practicality will come at a very steep price. With Porsche India set to launch the Taycan sometime later in 2020, we expect it to be priced at well over Rs. 1 crore.
Mercedes-Benz EQC
With Audi, Jaguar and Porsche gearing up for launching EVs in India expected price 1cr. rupees, how could Mercedes-Benz be left behind? The Stuttgart-based company has also confirmed that it will launch the EQC electric SUV in India by April 2020. The EQC will be a value addition to the company's portfolio and yes it still hasn't started testing the car at length in India. The next few months we will see the EQC being tested in the country so as to provide the company with all the relevant data ahead of its launch in the country. In fact, the EQC was showcased in India earlier in January 2020 and was met with positive response too.
The EQC is powered by a dual motor setup, which includes one motor for the front axle and one for the rear. This makes the EQC an all-wheel-drive SUV or as Mercedes likes to call it, a 4Matic. The EQC's motors are powered by an 80 kWh lithium-ion battery, that helps the motors produce a combined 300 kW (402 bhp) of peak power and 765 Nm of peak torque. The new EQC gets an all-electric range of around 400 km with a quick charge option on the SUV too.
Tata Altroz EV
Tata displayed this EV concept at the Geneva motor show this year and is at work on its development, which price Rs.14.0 Lakh.The all-electric version of the Tata Altroz is likely to take a while to hit showrooms. While Tata did not reveal all the technical details, it did state that the EV will have a 250-300km expected range and fast-charge capability with 80 percent charge in 1hr.
Volvo XC60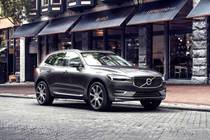 Having already brought in its XC90 plug-in hybrid, Volvo will follow up with the plug-in version of the XC60, which price is expected to be Rs. 59.9 Lakh. Just like its elder sibling, the smaller XC60 will offer a similar all-electric range of up to 40km. Volvo will also follow this up with two more plug-in hybrids – the S90 sedan and the XC40 SUV – and all three will launch next year.
The 1969 cc Diesel engine generates a power of 235bhp and a torque of 480Nm. Volvo XC60 is available in Automatic transmission only. The claimed mileage of XC60 is 11.2 Kmpl. In configurations, Volvo XC60 has a dimensions of 4688 mm in length, 1902 mm in width and 1658 mm in height.